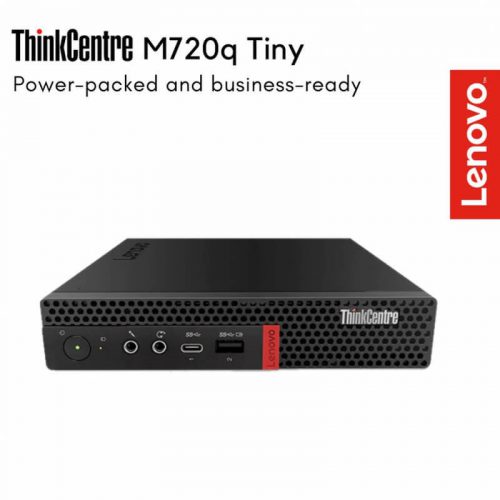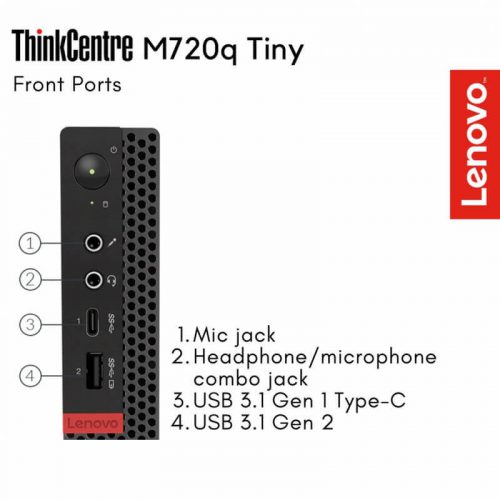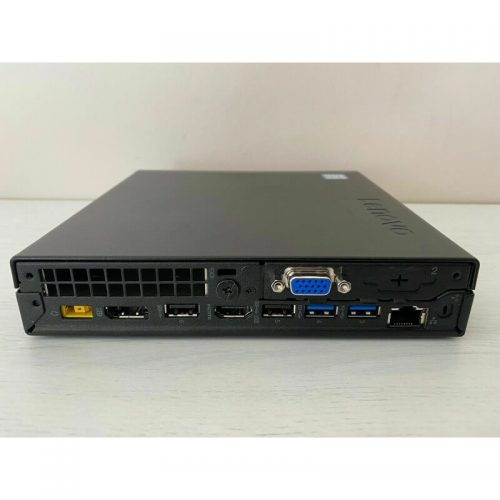 Lenovo ThinkCentre M720q Hex Core 8th gen Intel Core i5-8500T 8GB DDR4 512GB SSD Win10 Pro
£329.00 + VAT
Lenovo M720q Tiny / Mini PC
Very Good (Like New) Condition
Intel Hex Core i5-8500T 8th Gen Processor (2.1Ghz to 3.5Ghz Turbo) with 9 MB Intel® Smart Cache
8GB DDR4 Ram (upgrade available)
512 GB M.2 NVME SSD Drive (upgrade available)
Onboard Graphics – Graphics Controller Intel UHD Graphics 630
HDMI, Display Port and VGA Out ports for Dual Display connectivity.
5x USB 3.0, 1x Ethernet, 1xAudio in; 1x Audio Out, 1x USB-C
Windows 10 Pro Installed and Activated.
Comes with original Lenovo Charger and Power cable UK
Product Dimensions: 7 x 1.4 x 7.2 inches
Lenovo onsite warranty till Feb 2022, Tech-bazaar.com warranty is 3 months
Lenovo Thinkcentre M720q 10T7 The compact ThinkCentre M series desktop boasts a footprint so small it can fit neatly on a bookshelf, behind a monitor, or even under a desk. Engineered to work in tough environments, this PC can handle anything from minor bumps to extreme temperatures and dusty conditions, so you can focus on growing your business and getting your work done.
Out of stock
Description
Grading Info
Others
Description
Lenovo ThinkCentre M720q
From type: tiny/mini
Processor: Intel Core i5 (8th Gen) 8500T / 2.1 GHz (3.5 GHz) (6-core)
Cache Memory 9 MB
Cache Per Processor 9 MB
RAM 8 GB (installed) / 32 GB (max capacity) – DDR4 SDRAM – non-ECC
Graphics Controller Intel UHD Graphics 630
HDMI, Display Port and VGA Out ports for Dual Display connectivity
5x USB 3.0, 1x Ethernet, 1xAudio in; 1x Audio Out, 1x USB-C
Networking GigE
OS Provided and Installed Windows 10 Pro 64-bit Edition
Colour Black
Weight 1.32 kg
New
Brand new in original packaging and condition.
Grade A / Open Box
Slightly Used or open box, however it may not be in its original packaging or packaging may have been damaged
Grade B+
In good condition with minor visible marks or scratches. Slight cosmetic issue but nothing major and unit is generally in good condition with minor or hardly noticeable scrapes or scratches and absolutely no dents or damage. Every element of the hardware is functional with no known faults in the system. Occasional rubber base or blanking plate might be missing in case of desktops.
GRADE B-
The device will be clean however there might be noticeable scratches or marks and sign of wear and tear on the casing. There will not be any scratches or marks on the screen in case of monitors or Laptops, however you may notice occasional pressure marks. Every element of the hardware is functional with no known faults in the system. However it may have issues like small dents and missing rubber legs or missing blanking plates only in case of desktops.
GRADE C
The device will have significant signs of use. Deep scratches and/or dents on the casing are permitted but nothing that affects the functionality of the machine. In case of monitors or laptops if there is any damage to the screen then it will be clearly mentioned in the description however you may expect pressure marks or scratches on screen. Every element of the hardware is functional with no known faults in the system. May have missing rubber legs, back plates.